This year we decided to do an art study of Henri Rousseau, thinking the kiddos would appreciate his childlike and whimsical style. I was searching around the internet for some project ideas and am so grateful to have stumbled upon the blog Art for Small Hands. It is written by a Montessori art teacher and includes an extensive archive of lesson plans for all different ages and styles of art. This blog will surely be my go-to reference for art lesson inspiration this year.
Photosource: wikipaintings.org
We have many of Rousseau's paintings displayed around the classroom. Before we began painting, we read a short bio of Rousseau and watched a slide show of his paintings. We studied his style, his use of color and pattern, and the subject matter of his paintings. I love when children comment on artwork and hear how the art "speaks" to them. I have been bringing my own children to museums such as the Met and the MoMA since they were very tiny, for this very reason.
Photosource: wikipaintings.org
So a three session painting project with sixteen second graders would not be a simple task, especially on Friday afternoons, but we decided to give it a go. We decided on painting a jungle scene in the style of Rousseau, similar to the ones we have displayed in the classroom. So far, the results have been quite impressive.
We started the first session with white painting paper and some acrylic paints. The first technique we taught was to create a wash, by watering down the paint and washing it over the paper so that the white color was no longer visible. We used browns for the ground and blues for the sky, and thick brushes to apply the wash. That was it for the first session, since the paint would have to dry before we could continue.
Yesterday, for our second session, we added leaves and trees to our jungle. We provided the children with acrylic paints in various shades of greens and browns, and we used smaller brushes to allow for more detail. We encouraged the children to cover most of the paper with greens and browns, to create a thick jungle, and to allow only a little bit of the sky to show through.
At first, the children were a little shy with the paint, creating what seemed like forests and prairies, leaving a lot of open space on the paper. I started to pull down some of our pictures off the wall to show the children how thick the greenery was, and the patterns and colors Rousseau used in his paintings. Then the children really started getting into it.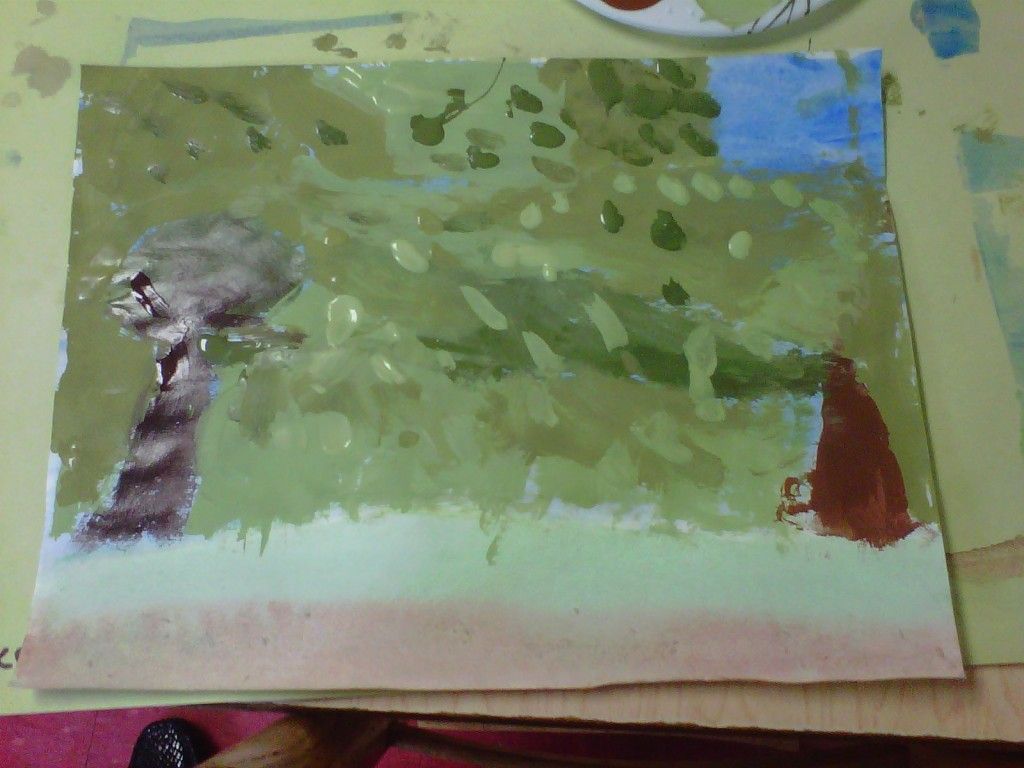 I love this one-it reminds me of Van Gogh!
Next week, for our last session, we will provide some vibrant colored paints and even smaller brushes to add flowers, animals, and a sun or moon. The layering of elements will give the paintings fullness and dimension.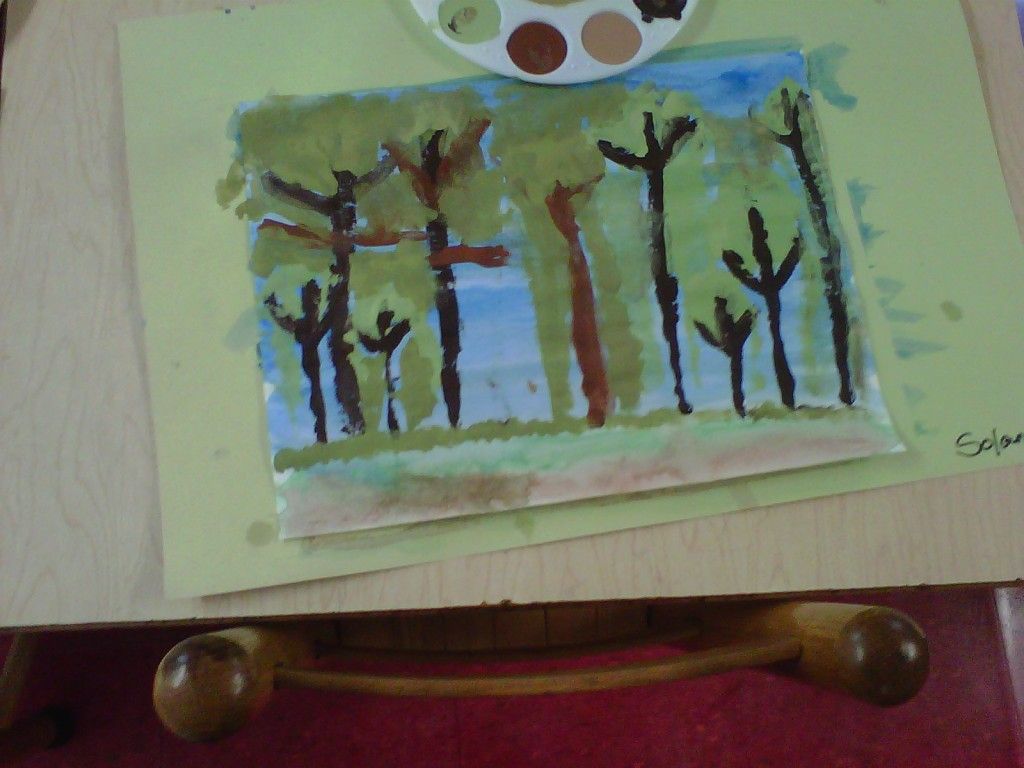 I can't wait to see them finished!
Till next time
~Silvana